Clockwork springs
Please note: before you ask for replacement or repair, make sure that it "clicks" when you try to wind up the spring, even though the spring is expected to be broken and / or does not tighten!!! Only if it clicks the clock is repairable!
Replacement:
I'm able to provide NEW clockwork springs for loco clockworks. Spring length is 1370 mm and thus is good for at least 13 semi-windup rounds (as the original). The price 18.- €uro. Plus 10.- Euro if I should do the job.
Repair of clockwork springs:
Since the steel used for the clockwork springs is very hard - making it nearly impossible to machine or repair it, the manufacturers used to anneal the steel in order to drill / punch a hole of 2.4 mm into the "inner end" for fixing it to the wind-up wheel. And this is the position where most of the springs are broken today. The demounted spring can be repaired - "cold punching" is possible - just find somebody (I can) who is able to punch 2.4 mm holes. You may then replace the spring. This repair work - if possible (not all springs are worth being repaired) - results in a little shortage of the spring and subsequently the clockwork is not running as long as before. But this is a possibility to have "scrap" run again.
Price for the replacement or repair works is 10.- €uro - plus actual shipping fees.
I do ship clockwork springs - 22.- € incl. fees in Europe - please ask for overseas shipping fee!!!
For several reasons the contacts inside the battery-tenders are often broken or rusty and thus no longer serve as they should. Also the nowadays batteries are a little thicker than the older ones. I can offer the conversion for the Battery Trucks from 3 x AA-batteries to 3 x AAA-batteries.
You send me your battery truck and I will insert an AAA battery holder - using remade cables and plugs. If you need plugs as well - you will be asked for that in mail-order-form. This conversion including my expenses for shipping cost.
At least EU compatible batteries - especially low-cost batteries - serve the tender - rechargeables still do not fit.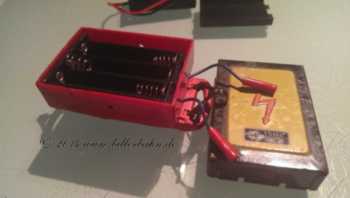 Please order here
The Price is 39.-€ for shipping in Europe and 45.- € for overseas shipping.
True to original speed
The next two pictures show an alteration to the original power supply in order to achieve a speed which is closer to the true speed. Simply insert a dummy as shown - consisting of any current leading material. This kind of dummy may as well be used in the cabins of any electric steam- or diesel loco.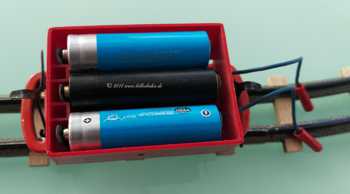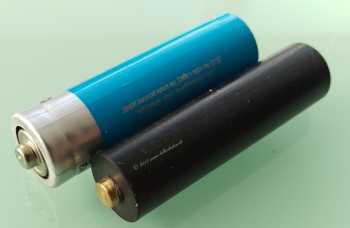 Replacement cable-Sets for the battery tenders 1015 / 1502 / 1504 / 1520 / 1521
13. I can provide complete cable Sets for the 15XX tenders. Each Set consists of 2 yellow/red/blue or violet cables with crimped-on plugs and red isolation hose. These Sets are already configered to be used in the 4-axle coaches. If you want to use them in the twin-axle tenders you have to shorten the cables on your own - but that should be no problem. Red, dark blue and violet cables are available as well - please state that when ordering!!!
Cables for the 1504 E Shell battery tender have to be ordered separately!!! In this case crimping and riveting has to be done inside the lid by your own.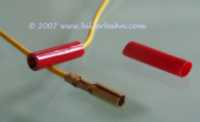 Europe: The Set-price is 7,00 €uro / pair - each extra pair is 4,- € - shipping included.
Overseas: The Set-price is 9,00 €uro / pair - each extra pair is 4,- € - shipping included.
Wheel handles for the 511 side tipper
12. Finally I found a fellow collector who managed to reproduce the wheel handles for the 511 side tippers. Only the white version will be available - and needs a fixation by means of a drop of glue!
The 1st wheel handle costs 6.- € - each further wheel costs 3.- € - (all incl. shipping). Overseas charges are subject to individual calculation.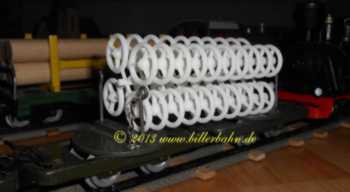 Replacement / Spare bulbs for the 1510 Steam Loco and 120 Sky Rocket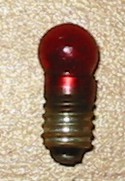 I can offer red bulbs, 6 Volt, 0,08 Ampere - for the 1510 steam Loco
and
red bulbs, 1,5, Volt, 0,2 Ampere for the 120 Sky Rocket
The price is 1.- €uro or 1,50 USD each - plus shipping. Please order here
Engine driver for the 550 plastic steam loco
ceased - 50 engine drivers doing their job
Crane hooks
I can offer lasered remade crane hooks for the 095 Dock Yard Crane, 200 Dockland, the 514 orange crane wagon and the orange 023 railroad crane. The shaft of the remake is approx. 1 mm longer than the original - but has no visual nor other effect.
The price is 4 Euro / each and includes shipping.
Window glasses
I have a "lot of" remade window-glasses for the 520 and 521 coaches "laying around" here.
If required - send me a letter containing 4 x 1 Euro for the 1st pair of "glasses" - each additional pair costs 2 (two) Euro extra. This price includes shipping.
Signals
very often the base / socket, which is pushed onto the prolonged sleepers, for the 022 signal is missing. Here you will see how the create a re-make. In principle the base / socket of the switchers, "home" of the lever" is identical - just 2 small nuts are missing for fixing the 2 "noses" of the signal's base. These may be made using a 1 mm drill.



Crew re-makes
for the 504 crew wagon - also used at the excavator- and crane trucks 758, 759, 860 and 864.
Really excellent re-makes. If you are interested please contact.
The price is 10.- Euro each. Not really cheap - but really worth the price.
Shipping fees in Europe 6.- Euro - overseas 11.- Euro
I'm able to provide peak-shaped remakes which do fit really excellent. Square-shaped version (for the 1st series of this toy) is no longer availble.
The price is 26 €uro / Pair incl. shipping in Europe - Overseas rate is 31.- Euro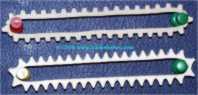 Wooden cargo
Most of the wooden cargo is missing when acquiring Biller coaches nowadays. But these may easily be replaced using cheap wooden sticks as available in Hobby Shops or similar.
For the 505 Timber wagon you may use 8 mm sticks - length 140 mm - 7 pieces adhered to a single wooden bunch.
For the 510 Log lorry you may use 14 mm sticks - length 110 mm - 6 single sticks for each coach.