old track-box - contents 12 straight track
old track-box - contents 50 straight track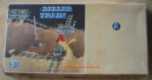 the label of the 2nd Version track-box - contents 25 straight track
the

box and

label of the 2nd Version track-box - contents 5

0

straight track
quite interesting that on the 2nd Version boxes both parts are the same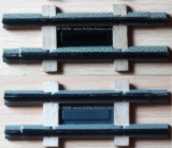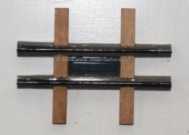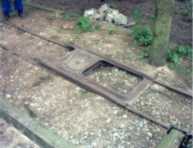 002-5 - straight track, half seize, 8,5 cm
the reinforcement tin either dark-grey or black
003 - turning frame - the original and the model

004 - bumper / support, height 24 mm
014 - support, height 38 mm, New in 1966
015 - support, height 45 mm
018 - support, height 65 mm, New in 1966
016 - support, height 88 mm
The listed height of the supports is
measured at the top of the track profile - and not referred to the wood or metal claw!!
005 - shovel
12 shovels in original box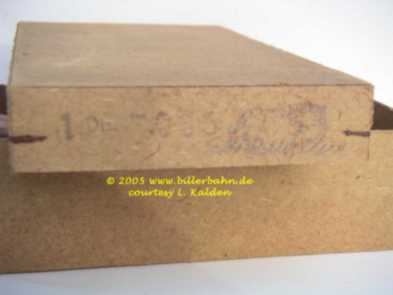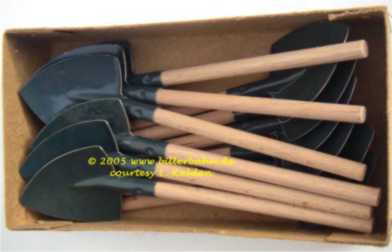 006 - road block
all to me known road blocks show a 1 mm hole at the outer ends ...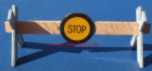 ... through which a key ring could be inserted - to prevent the feet fall off. Additionally this here shown road block has buff painted feet - original, as stated by the owner. The price (-,50 DEM) indicates this one to be bought between 1949 and 1952.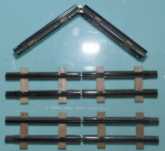 007 - foldable rail - inscription either both sides of the joints - or none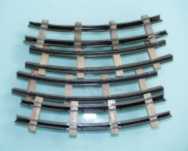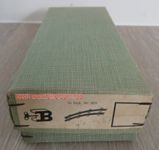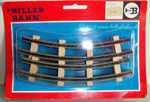 009 - curved track
box for 10 x 009 curved - what a strange no. of track.
Was it a Dealers box?
1st Version

track-box - contents 12 and another box containing 3 dozen of curved track. Printings either Made in U.S. Zone Germany or Made in Western Germany onto only one side of the rail
German Blister Set 6009

containing 6 rails - and showing a "6009" moulded into the plastic - the Italian version was sold for 1000 Lire - no extra stamp
010 - right hand switch, and 011 - left hand switch - in different grey shades and original boxes for a pair each. And a blister Set Z4.
012 - turn table - underneath either coloured or blank
024 - Rerailing ramp
Made by Fleischmann - but fits perfect for Biller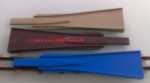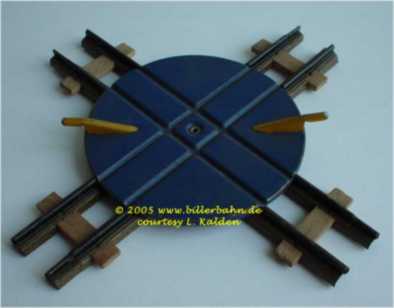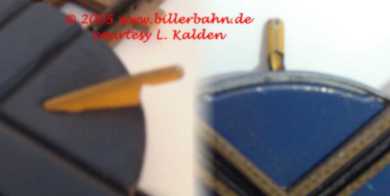 blue turntable with yellow levers - I had some doubts - but it appears to be genuine.
who really would paint the levers afterwards in such a professional manner?? !!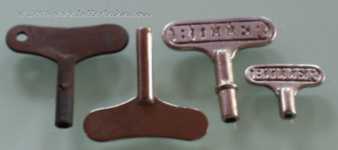 019 - Wind-up key, for locos, excavators etc. Note: a different, smaller "fish boned" key available for the Race Cars and FIGURO. The smaller Biller key here is usually used for the base station at the 115 Helicopter, the 100 Trans World flyer or the 745 excavators - and fixed to them. This one was delivered together with the 050 Slugger Champs - and came back from Canada.
020 little bag with coal and plastic tub and plastic SHELL Oil can
021 - Road / level crossing - produced by FALLER - novelty 1965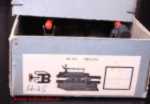 022 - straight track with signal, New in 1966,
ready to be installed
the ancient Signal Box
and in a more modern counter display box
box containing 5 signals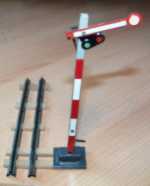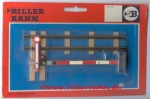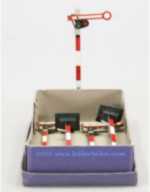 different colouring on the back-side
... and different track-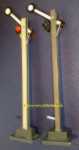 generated: DEC-25-1999
last update: Christmas 2020